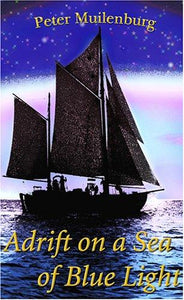 Peter Muilenburg has lived in the Virgin Islands for almost 40 years, building boats and sailing his gaff-rigged ketch throughout the Caribbean, the Mediterranean, and along the African coast.

Here are his true tales, many previously published in magazines such as Islands, SAIL and Reader's Digest.

Peter's passion for the sea, the stars, his family, his boat and the islands themselves is mirrored in his sensuous prose, his ear for dialogue, and his talent for transporting the reader to the place and time of his Caribbean imagination, and to his wondrous insights into island (and everyday) life. * * "DELIGHTFUL . .

Muilenburg has the enviable ability to write as if he were talking with a friend . . immerse yourself in the world beyond, and a life lived simply but full of riches." SAIL, 12/05 *

"SEAWORTHY . . During their adventures, Muilenburg and his wife, Dorothy, find themselves building boats, raising two sons . . and narrowly escaping would-be disasters . .

Many of the 32 stories are full of intriguing encounters . . With his self-deprecating humor and zest for life, Muilenburg's collection is an entertaining read that will make you want to set sail." ISLANDS, 06/05 *

"I don't know when I have enjoyed a book of stories more than 'Adrift'.

The tales revealed are warm, human, poignant and hysterically funny.
The accompanying black and white photos . . lend a dreamy and exquisite aura to the pages.

This book is a wonderful way to get away from it all and I cannot praise it enough."

ALL AT SEA, 07/05 (see below). * "The author . . has the generous outlook of a seasoned world traveler . . [A] book I would heartily recommend to all cruisers and armchair sailors . ." CARIBBEAN COMPASS, 10/05 * "[

This] incredible book . . is probably one the best books to come out of St. John, ever." St. John Sun-Times, 5/20/05. *
"Read this book . . Muilenburg deserves an A+." Paul Leary, The Daily News (St. Thomas), 3/22/05.
Order one today!