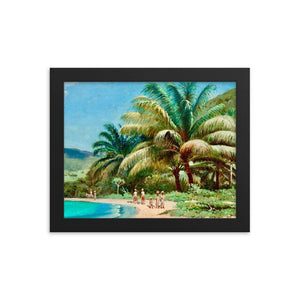 Andreas Riis Carstensen created beautiful maritime scenes during his lifetime, one of which was this beach scene from the east end of St. Thomas.
It's very likely that it is Lindquist Beach, otherwise known as Smith Bay beach.
It's a beauty!
On one of Carstensen's visits to St. Thomas, he gave a fascinating lecture at the Apollo theatre entertaining the crowds with his paintings and stories of his visit to the Nile River. ~ 1903
He spoke for two hours about Egyptian history including their customs, religions, and hieroglyphics.
"One could almost follow him in his journey up the Nile."
Carstensen had a unique ability to capture the scenic wonder of all the places he traveled to.
This print will look beautiful in your home.
Order one today!
Specifications:
🎨 Alder, Semi-hardwood Black frame
🎨 .75" thick, 8x10 Matte Paper
🎨 Acrylite front protector
🎨 Lightweight
🎨 © Andreas Riis Carstensen
🎨 © Det Kgl. Bibliotek
🎨 Hanging hardware included