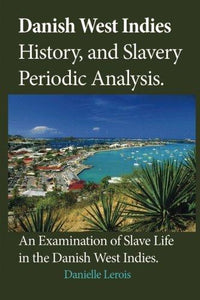 Danish West Indies History, and Slavery Periodic Analysis:
An Examination of Slave Life in the Danish West Indies. By Danielle Lerois
The Danish West Indies consists of three small islands in the Caribbean situated to the east of Puerto Rico, namely Saint Thomas since the 1660s, Saint John since 1718, and Saint Croix from 1733.
Altogether these islands make up only 333 square kilometers.
The colony was characterized by trade and shipping in Saint Thomas and sugar plantations in Saint Croix, whereas Saint John was considered as just an appendix to the neighboring Saint Thomas.
The three islands stayed a Danish colony until 1917 when they were sold to the United States.
Before the Europeans came to America, the Antilles were inhabited by Indians.
Quite a number of excavations have been carried out by Danish archaeologists in order to get an impression of these original inhabitants, especially in Saint Croix around the Salt River area which is today a National Park.
Learn more by ordering a copy today!