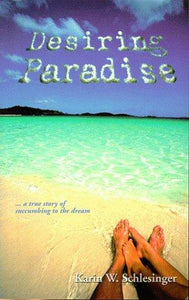 Many people toy with the idea of packing up their lives and moving to a remote island in the tropics.
This book relates the hilarious tale of two middle-class New Englanders who succumbed to that dream.
The Paradise they desired is the beautiful and sometimes whacky island of St. John in the U.S. Virgin Islands.
Life's misadventures caused havoc, but these folks persevered.
How they got to Paradise will inspire the most jaded reader to believe that any dream is possible.
The realities of living on a small Caribbean island where donkeys and goats may be more plentiful than people is an eye-opener for everyone!
On St. John, folks drive on the left side of the road and hitchhike by pointing their index finger in the direction they're going.
It's a place where tree frogs give nightly concerts that compete with the sounds of reggae music floating up the hillside from tiny town of Cruz Bay.
The only way to leave is by boat... and sometimes that's easier said than done.
Loaded with island trivia, this new book uncovers the unique rhythms of daily life in the U.S. Virgin Islands.
Learning 'island-time' and having a sense of humor counts in Paradise, as these two transplants from New England found.
Their first-year adventures on-island will make you chuckle as you come to realize - Paradise is a state of mind.
 Order a copy today!