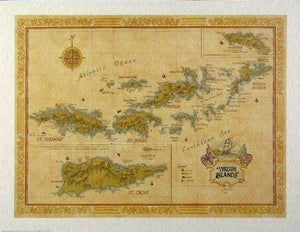 Brand: One Treasure Limited
Features:
Antique-style map of the Virgin Islands
Taken from original watercolor painting
Meticulously printed on quality parchment paper
Details: The U.S. Virgin Islands include St. Thomas, St. John and St. Croix.
They have a population of almost 100,000 and a total land area of 134 square miles.

Since 1927, their residents have been citizens of the United States.

Located about 70 miles east of Puerto Rico, the economy is based on tourism, rum, textiles, pharmaceuticals, and electronics.

The capital is Charlotte Amalie on St. Thomas.
The British Virgin Islands include Tortola, Virgin Gorda and Anegada with a combined population of 13,000. Size: 17"x 22"