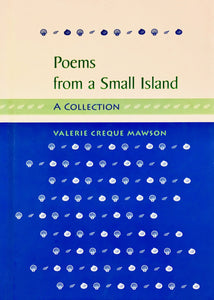 This beautiful book is filled with the heartwarming poetry of Valerie Creque Mawson, a Virgin Islander born in St. Thomas during the Danish times.
🌸  About the Poet 🌸


Sensitive and intelligent, Valerie was an avid reader as a child, and it was during her island girlhood that she began writing poetry.


Sometimes poems would come to her completely finished which amazed everyone.


Favorite themes throughout her life were the natural surroundings of her beloved islands, relationships with family members and devotions to her benevolent God by whom she felt guided and inspired.


There are also several poems about historic events she witnessed in St. Thomas, one of which was the arrival of President Franklin D. Roosevelt.


If you love poetry or you're looking for the perfect island gift for a friend, this little book is ideal.


Order one today!