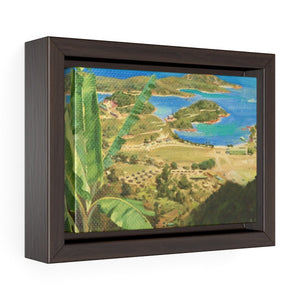 This beautiful print was recreated from a painting by
Albert K. Murray.


Murray was an American Naval combat artist during World War II.


While visiting St. Thomas in 1942, he found a panoramic spot high in the hills above the western end of St. Thomas to capture this idyllic scene.


A lot has changed in the seventy-six years since but you can still see Lindbergh Bay, Water Island in the near distance and the grassy green area below that the airport now occupies.


Order one today!
Size available: 7" x 5", Framed Print
🌴 High-quality reproduction
🌴 Recycled plastic frame
🌴 © VintageVirginIslands.com 


©
US Navy Photo Courtesy of Naval History and Heritage Command
Disclaimer: Use of released US Navy imagery does not constitute product or organizational endorsement of any kind by the US Navy.


🌺  Thank you for visiting the shop!