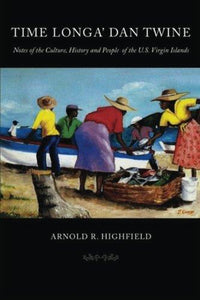 Time Longa' Dan Twine (Time's Longer than Twine) is an expression that reflects the wisdom of the people and culture of the Virgin Islands, meaning, in one sense, that the things of the world always dwarf the things of man.

Virgin Islands scholar Arnold R. Highfield has taken this admonition as his starting point and his guide in his quest to reveal the foundations of local history.

In these pages, you will follow in the wake of Columbus on his second Caribbean voyage, visit the indigenous folk who lived here hundreds of years before his coming, feel the force of powerful hurricanes, take part in the early settlement of these islands by small bands of settlers, travel from Africa across the Atlantic on board abominable slave ships, and learn ultimately to appreciate the culture that was created over several centuries in the encounter between Europeans and Africans in the context of a plantation society dedicated to the production of sugar and rum.

You will meet fascinating individuals whose lives have emerged from this vast story, people who dared look beyond the limitations that life and circumstances imposed upon them in order to travel the earth and to experience life to the fullest—ambassadors, athletes, adventurers, intellectuals, planters, and common folk.

You will walk under the mighty spirit trees, among plantation ruins, through deserted sugar-mills, and along the streets of time-worn colonial towns.

In a word, you will experience in these pages the Virgin Islands that has never before been so fully revealed.

Arnold R. Highfield was Professor Emeritus of Linguistics and Social Sciences at the University of the Virgin Islands, St. Croix Campus.

✥ Among his numerous publications are: St. Croix 1493, The Kamina Folk, The French Dialect of St. Thomas, Hans West's Accounts of St. Croix in the West Indies, J. L. Carstens' St. Thomas in Early Danish Times, Theoretical Orientations in Creole Studies, Under a Taino Moon, Sea Grapes and Kennips, Crucian Recollections, and St. Croix 1650–1733.
Author: Dr. Arnold R. Highfield, 480 pages
Release Date: 2009-05-01
Order one today!