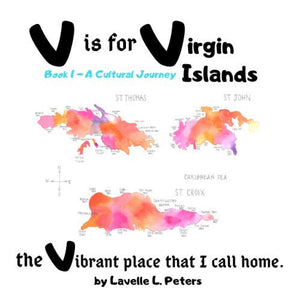 V is for Virgin Islands
"Are you ready to take a cultural journey to the United States Virgin Islands?
From Anansi stories to Zora's custom sandals, this book takes you back to growing up in the Virgin Islands while teaching your children to say and recognize the letters in the alphabet.
And as they get older, you can save it as a keepsake to reminisce on all the memories of what it was like to grow up in the Virgin Islands.
It's like having a piece of the Virgin Islands aka 'home' in your library where you can visit every time you pick up the book.
So, if you're a parent who has moved away from the Virgin Islands and wants to share a piece of our vibrant home with your little ones, this is the book for you!
Or, if you've previously visited the Virgin Islands and are looking for a keepsake to help you remember St. Thomas, St. Croix, or St. John, get this book as a souvenir.
And if you have kids or grandkids, use it as a learning tool that can also take them on an adventure to discover a different culture or place, the United States Virgin Islands."
Support Lavelle's creative project and pick up a copy here for your kids or as a gift!